Trusted Technology for Trusted In-Home Care
Generations Homecare System is the secure, all-in-one homecare agency management solution that gives providers the power to connect care teams, simplify daily tasks, and maintain compliance.
Deliver Quality Care
Essential tools to streamline your homecare scheduling, maintain compliance, and deliver the best care.
Electronic Visit Verification
Fully integrated Electronic Visit Verification (EVV) Telephony to streamline your reimbursement process and maintain accurate billing and payroll data. Real-time visit verification and missed visit alerts ensure reliable quality care is always delivered.
Mobility
Generations is cloud-hosted and completely mobile. Your data is always secure and accessible only to those with proper permissions. Free mobile apps for the entire homecare team, including caregivers, case managers, administrators, and clients.
Unlimited Support and Training
Support is unlimited and available through LiveChat or phone. Absolutely no limits or hidden fees. Work with a one-on-one on-boarding specialist for easy setup. A dedicated Generations Success Manager will ensure your homecare team is using all of the essential tools in Generations.
Generations Homecare System
Download this information packet to explore the ways Generations will help your homecare business:
Ensure exceptional care is delivered – always.
Keep care teams happy & connected.
Document and report succesful care outcomes.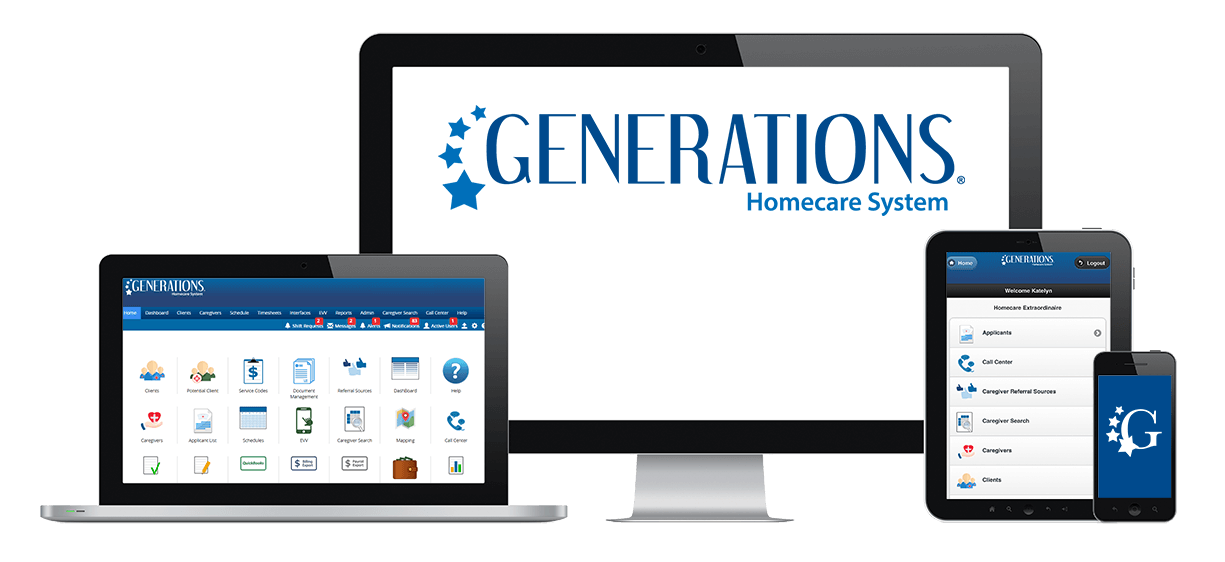 Enhance Security and Compliance
Homecare industry security standards are always changing, which makes staying compliant a big job for any sized homecare agency. Generations ensures your data is always secure and helps your agency stay HIPAA compliant. Audit trails, user-based permissions, and secure documentation are just a few of the ways Generations helps your homecare team maintain compliance.
Improve Care Team Communication
Convenient and secure communication tools are essential to delivering quality homecare. Easily stay in touch with caregivers and office staff with HIPAA compliant messaging. Real-time monitoring means you'll stay alert to missed visits and changing client conditions.
Maintain Accurate Records
Electronic Visit Verification (EVV) services will improve your homecare reimbursement process and improve accuracy for billing and payroll. EVV allows caregivers to check in and out of shifts with GPS visit verification or from a verified phone. Schedules are updated and confirmed in real-time.

Generations Homecare System - A Solution from Integrated Database Systems
Midland | Royal Oak
Michigan
989-546-4512 | info@homecaresoftware.com