Accurate Home Care Payroll
Eliminate the need for paper time sheets, ensure correct pay rates and hours, and directly export payroll data with Generations Homecare System.
Generations eliminates time-intensive manual processes and makes it simple to process payroll.
Eliminate the Need for Paper Time Sheets
Arrivals and departures of caregivers are confirmed in real-time via a mobile app, eliminating the need for paper timesheets.
Flexible Pay Rates and Accurate Reimbursements
Generations Homecare System has fully customizable pay rates, including state- and city-specific requirements. There are no complicated workarounds; payroll export files work with 24-hour shifts, split shifts, and multiple pay rates. Tracking work that may be reimbursable to your staff, including overtime and mileage, is simple.
Easily Access Timesheet Reports or Create Your Own
Streamline the payroll process by accessing several reports based on timesheets and choosing your parameters. 
You can also create your own reports with the Report Writer. This tool is a great way to see pay rates in effect for all caregivers, which caregivers do not have a default payroll item.
Export Data to Payroll Vendors
You can export payroll data directly to:
QuickBooks (desktop)

QuickBooks online

Paychex (Core/PNG, Preview, or Flex)

ADP (Pay eXpert or Workforce)

Any other 3rd party payroll vendor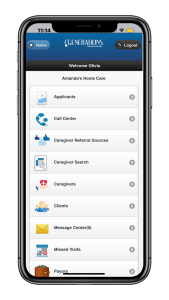 Ready To Learn More?
Download the Overview Booklet Below