Client and Caregiver
Management
Limit the need for office visits and improve care outcomes when your client and caregiver information is all secured in one place.
Plus, online caregiver applications and client inquiry forms automatically sync between your website and Generations.
Online Forms (Applications)
Generations Online Forms will help you organize your agency's application process while keeping all incoming form submissions in one area. With Online Forms, you'll receive a notification when new applications come in from a caregiver or care recipient. You may also view applications anytime right from your desktop or mobile app. Plus, Online Forms are imported automatically into Generations for ease and convenience. No more scanning and attaching.
Scheduling
Scheduling shows you all of your agency's clients and caregivers, the hours they're scheduled, and their availability. Broadcast available work and schedule a variety of shifts, including 24-hour shifts, split shifts, multi payers, and more.
Caregiver Search
Easily schedule from your pool of qualified caregivers, including applicants, with the Caregiver Search tool. This valuable feature allows you to search for a caregiver with any criteria of your choice.
Overtime Tracking
Easily track work that may be reimbursable to your staff, including overtime. Directly export data to QuickBooks, your state's aggregator, or a clearinghouse of your choice for simple and accurate billing and payroll.
EVV
The EVV tool gives your agency real-time verification of the arrival and departure of caregivers for rapid and compassionate family-centered care. With Electronic Visit Verification (EVV) software your agency can seamlessly improve care plan compliance, track care notes, and reduce hospital readmissions.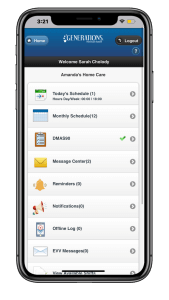 Secure Messaging
A secure, HIPAA-compliant communication channel for the entire care team.

Agencies can alert caregivers via an app, email, and text notification of new messages and documents. 

Caregivers can receive critical and time-sensitive information from their agency, such as emergency plans and alerts; send secure messages to their agency, and notify their agency of their availability.
Care Opportunities
Generations helps agencies broadcast newly available work to caregivers, caregivers find shifts, and care recipients receive the care they need exactly when they need it. This thoughtful functionality is particularly useful for a remote workforce, as it saves care teams time and ensures care delivery without involving office visits.
In-Service Tracking
Track ongoing education and licensing for caregivers.
Caregiver Screening and Vaccination Tracking
Screen caregivers for COVID-19 symptoms and easily manage caregiver and client vaccination status. Homecare providers have the ability to securely document the COVID-19 vaccination status of caregivers and recipients of care, directly in Generations. Documenting vaccination statuses enhances safety and care outcomes thanks to the ability to filter caregivers and care recipients according to their vaccination status.
Call Center
The Call Center is a tool to use throughout the day to securely document all communications including phone calls, referral visits, and more. The Call Center is your all-in-one to-do list and note-taking area. Generations Call Center will help your office run smoothly and keep all documentation of office communications in one area for quick reference.
Online Forms (Inquiries)
Agencies who use the Generations online application and service inquiry forms are especially well equipped to recruit and retain caregivers and care recipients. You can set a designated person(s) to receive email notifications when new application or service inquiries are submitted on behalf of a care recipient.
Assessments
Using customizable Generations Assessments when evaluating a potential client is a smart and efficient way to manage the assessment process. When onboarding new clients, Assessments become an important foundational step toward providing exceptional care, as Assessments are the best way to create an individualized plan of care. This feature is HIPAA compliant and ensures patient health information is always protected.
Scheduling
Say goodbye to scheduling with pen and paper! Easily schedule clients with caregivers by broadcasting available shifts and easily accessing caregiver availability.
Service Order Compliance
Ensure care is scheduled for within the pre-approved budget by setting service authorizations and validation rules by client. Receive alerts when schedules are created that exceed authorized hours or units.
Wellness Tracking
Prevent hospital readmissions by monitoring the client's condition for red flags and tailoring the wellness capability to meet the unique needs of each client.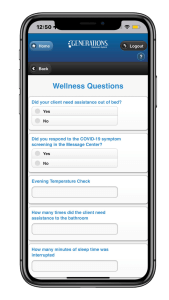 Quality Assurance
Survey clients to rate satisfaction. Agency administrators can view survey ratings by shift or as an accumulation of ratings over time to monitor for quality assurance and gain referrals by using the Quality Assurance Rating Report.
Wound Notes
Improve outcomes and reduce readmissions by tracking and documenting wounds. Clinicians can use Wound Notes for adding wound details and to identify areas of the body that are in need of attention. By clicking on images presented in the secure Generations Mobile App, clinicians can indicate the precise location of wounds and make a record of any changes. 
Care Plans
Generations Care Plans allow you to create a completely customizable assessment and care plans during the initial visit, receive electronic signatures, and securely access care plans in the field via the mobile app. Your agency can choose from three care plan types: assessment forms, care plan reports, and CMS-485. 
Visit Documentation
Ensure exceptional care and improved outcomes with access to a variety of HIPAA-compliant documentation tools. Features such as Generations Visit Notes, Wellness Questions, and a required task list can help care teams keep track of client health while giving care recipients and their families peace of mind that the right care is being delivered. Beyond the benefits to caregiving, using Generations for electronic documentation of visits helps agencies save time in the way of organizational efficiencies and expedited billing.
Client and Family Mobile App
Empower your recipients of care with the Generations Mobile App or web portal. Clients can access caregiver profiles, electronically sign to verify care, and ensure the best care via real-time reporting of completed tasks.
Ready To Learn More?
Download the Overview Booklet Below