Web-Based
Homecare Software
Agencies that use Generations have access to a highly-rated free mobile app, available in both English and Spanish. The Generations Mobile App allows your care team to
save time and improve health outcomes
through accurate, secure, and timely communication.
In the Mobile App, you can easily and securely document important information and send messages. The Mobile App is available in three formats for agencies, caregivers, and clients.
Web-Based Features & Functionality
The mobile app from Generations will help your office run smoothly and keep everyone connected thanks to superior features and functionality such as:
Enhanced mapping through an integration with Google Maps
Schedules, care plans, completed tasks, and caregiver profiles
Care plans securely shared with clients and care teams
Access to critical documents securely stored in the cloud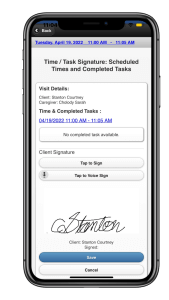 Generations Secure Messaging
Generations Care Notes, Visit Notes, and Wellness Tracking
Electronic Signature for clients and administrators
Ability for caregivers to view and request available care opportunities
Ready To Learn More?
Download the Overview Booklet Below