Streamlined Caregiver
Scheduling
View confirmed caregiver shifts online in real-time, easily update all schedules, track service hours, and more. 
Easily Share and Fill Caregiver Shifts
Broadcast available shifts to caregivers in the mobile app
Protect care recipient privacy
Save time and ensure care delivery without interruptions
Seamlessly fill available shifts with real-time updates
Ensure Accurate Schedules are Created with Scheduling Alerts
Built-in alerts monitor scheduling issues such as double booking, overtime, exclusions, service order authorization overbooking, and caregiver availability or absences.
Track Caregiver Availability
Conveniently document each caregiver's unavailability. In the caregiver record, administrators can make note of a caregiver's absence. The documented absence will automatically record on the calendar and give the opportunity to create an open shift for the client. 
Note Caregiver and Client Exclusions and Preferences
Document which caregivers are preferred or excluded for work with a client. While scheduling, preferences and exclusions are conveniently noted with an E or a P next to the caregiver's name. If a schedule is created with a noted exclusion, Generations will alert the scheduler.

Access Flexible Scheduling Views
Calendar views are available in daily, weekly, monthly, and grid format. Filter calendars by caregiver or by client.
Use Convenient Daily Schedule Reminders
Schedule reminders are sent to caregivers each day at 5:30 for the next day's visits.
Find Qualified Caregivers with Caregiver Search
Easily schedule from your pool of qualified caregivers, including applicants, with the Caregiver Search tool. This valuable feature allows you to search for a caregiver with criteria like location, availability, skills, and more.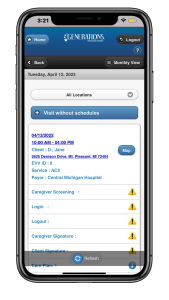 Take Advantage of Convenient Caregiver Shift Arrival Screening
Caregiver Screening: Automate screening questions for caregivers to complete as they check in to each of their scheduled shifts. Screening questions are customizable and ensure safety and compliance. These screening questions can be especially useful for COVID-19 symptom screening.
Reach Caregivers with Secure Messaging
Broadcast work opportunities across your network of caregivers while protecting the privacy of recipients of care with this secure, HIPAA-compliant communication channel.
Get Notifications to Simplify Agency Administration
Agency administrators always receive notifications upon receiving a shift request through Generations, ensuring that shifts get filled in a timely manner.
Agency administrators also have the option to cancel requests for being assigned to care opportunities. When that occurs, caregivers will receive a notification from within the Generations app that the care opportunity has been removed, thereby closing the communications loop.
Easily Share and Fill Caregiver Shifts
Our streamlined communications approach helps agencies broadcast newly available shifts to caregivers in the caregiver mobile app. This helps caregivers find shifts and care recipients receive the care they need exactly when they need it.
To protect care recipient privacy and confidentiality, office administrators broadcast available shifts including general anonymous/identifying client information. Caregivers can then view and request available shifts securely via the free Generations mobile app and schedulers can approve requests that fit certain criteria. Caregivers whose shift requests are approved receive a notification that they have been assigned to the shift, which is then added to their list of assignments, seamlessly filling the available shift. 
Caregivers can conveniently view their upcoming care schedules within the mobile app.
This thoughtful functionality is particularly useful for a remote workforce, as it saves care teams time and ensures care delivery without involving office visits. 
Ready To Learn More?
Download the Overview Booklet Below