Quickly and securely access your data.
Generations Homecare System secures all of your data in an off-site, state of the art, SSAE-16 compliant data center with many fail-over and backup features, including 24/7 monitoring to ensure peak performance.
Fast Data Retrieval and Storage
Enjoy minimal latency with Tier-1 premium bandwidth for "blazing network speed," so you can quickly get the data you need to complete your work.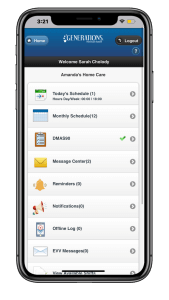 Reliable Access to Your Data
The data center used by Generations has multiple uninterruptible power sources (UPS) and generators to provide a reliable source of power. Generators are load-banked twice a year to confirm they are functioning properly and will perform well if needed. 
With a power and cooling infrastructure "built with full redundancy in mind," you can avoid the frustration of downtime and rest assured knowing your data is safe in the event of system failure.
Ready To Learn More?
Download the Overview Booklet Below