Read this if you or a family member are searching for home caregiving.
"…a lot of nursing homes are closing. A lot of nursing homes are going out of business. And the ones that are staying in business, particularly the for-profit ones, are generally shifting away from long-term care…" —bioethicist Tia Powell, author of Dementia Reimagined – Building a Life of Joy and Dignity from Beginning to End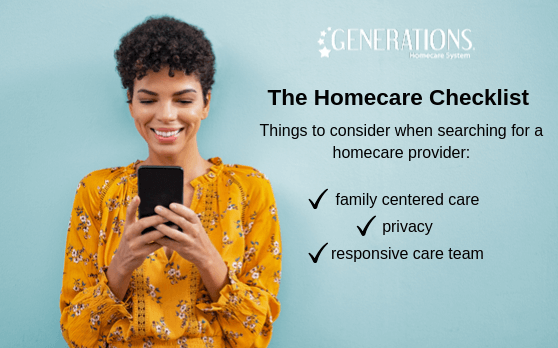 According to the Bureau of Labor Statistics, we can expect to see an estimated 41 percent increase in the number of jobs created for personal care and home health aides in the United States by 2026.
Plus, "Experts differ on the specifics, but they generally agree that somewhere between half and two-thirds of seniors will need at least some long-term care." (Axios, 2019)
With more and more Americans opting to be cared for at home, many families will–and already do–look to homecare agencies to provide care and support for their loved ones.   
In-Home Care
Are you thinking about hiring, or in the process of searching for, homecare providers to care for your aging parent or other family member requiring in-home care? 
Do the agencies on your list offer client care portals to clients and families of clients?
Is the agency equipped to manage care transitions from hospital to home?
If you answered "no" or, "I don't know" to these questions, we recommend using the following checklist of questions for the homecare providers on your list.
Partnering with a homecare software system has become standard practice for homecare agencies around the U.S. as government mandated requirements continue to increase in frequency and scope. To ensure their clients receive a high level of care and that sensitive documents are accurate and secure, agencies use sophisticated software to manage these and other aspects of their business. We recommend that families hire only those homecare agencies that use software systems to manage their business.  
Let's be sure you're getting the best care possible for your loved ones.
To this end, we've created a checklist for you to use when researching homecare agencies. We hope you'll pull this up on your smartphone or tablet when interviewing agencies.
Questions to ask homecare providers:
See below for your checklist of questions to ask when interviewing homecare agencies. 
HIPAA Compliance

– How does your agency ensure HIPAA compliance?

Security

– Do you use a cloud-based software system to manage your clients' sensitive information? What systems and software are in place to keep our family's information secure and safe?

Privacy

– How do you file and store documents? Do you keep electronic or paper files?

Electronic Visit Verification

– How do you ensure that care is received and that care plans have been followed? 

Real-Time Reporting

– Does your software system feature real-time reporting so that I can monitor the care I or my loved one receives?

Client portal and app

– As a client or family member of a client, will we have access to a client care portal to view visit notes? If yes, does the portal have the following features?

Plan of Care for viewing scheduled visits and plan of care for greater transparency around the care clients receive

Caregiver profiles, featuring biographies about the caregiver

Completed tasks area to monitor care in real time

Electronic Signature so that caregivers and clients can verify date, time and type of care received
"Fantastic source of information and communication. 5 stars." –Generations app user Beverly Prentice
We are deeply committed to ensuring homecare agencies are set up for success, and we believe success can be achieved by having the best software in place. Ask your agency to reach out to us today. 

Want to read more about how Generations helps homecare agencies care for their clients? Download our document on recruiting and retaining caregivers.
Do you have questions or comments? Please send us a note at info@homecaresoftware.com.