Homecare and Home and Community Based Service (HCBS) providers share the common goal of working towards providing the highest quality of care in the most efficient and accessible way possible. A great way to entice and retain a strong workforce is to provide them with innovative technology that will help them simplify their daily tasks.
The Generations Homecare System mobile app is the app preferred by caregivers because of its features and tools developed with ease of use and security in mind. Check out some of the features caregivers are loving:
Secure Messaging
Secure Messaging in Generations is an easy way for the entire care team to stay connected and up-to-date, all in one place. While text messaging may be convenient, it is not HIPAA compliant, making this a great alternative. Take a quick look at secure messaging in Generations in the video below.
Scheduling and Available Shifts
Caregivers can conveniently view their schedules in the mobile app. After the office staff sets schedules, caregivers can easily view their daily schedule in Generations. No matter where the day may take them, they know their next move.
"Very helpful with keeping up with my schedule for work. Helpful for reminders of when I can schedule days I need to do things for myself or for my family."

Della F, Generations app user.

Google Play review.
Available shifts in Generations is an enticing tool for Caregivers. Available shifts gives caregivers the opportunity to sign on for additional work and helps care coordinators ensure open shifts are always covered. Watch the video below to learn more about scheduling in Generations.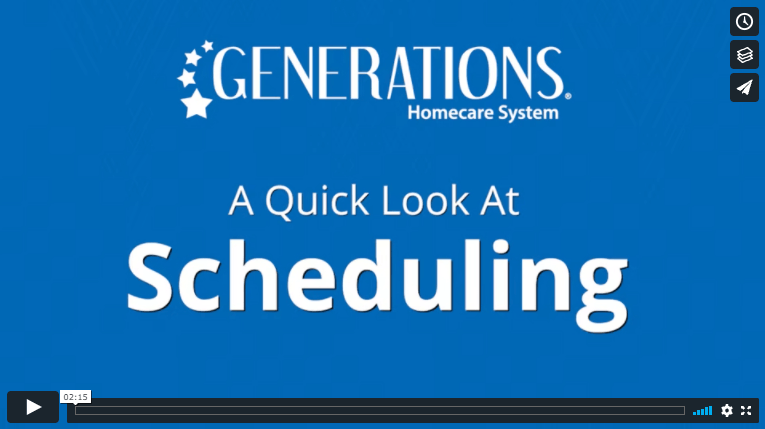 Care Plans and Note-Taking
With pen and paper eliminated, caregivers need an easy-to-use and secure place to store all of their notes. Generations care plans and visit notes allow caregivers to keep track of and recall important information regarding a client's plan of care.
"Generations is a useful tool. I find it valuable and easy to use. It facilitates communication, checking scheduled assignments, and maintaining client care plans and visit notes."

Tom P, Generations app user.

Google Play review.
Data Security and Privacy
Keeping accurate and secure records has never been easier than while using  Generations. Homecare providers share the responsibility of keeping all client records up-to-date and secure. User-based permissions in Generations further allow for optimal data security as there is total control of who has access to certain information. Care teams using Generations have confidence in knowing that all of the information in the app is not only secure but HIPAA compliant as well.
Mapping and Visit Verification
The mapping functionality allows caregivers to easily get from one client to the next. Generations has an Integration with Google Maps which ensures caregivers are getting to their visits in the most accurate and efficient way possible.
"I love how you can access everything you need in one place – schedule, maps….. Easy to use."

Linda F, Generations app user.

Google Play review.
Real-time visit verification in Generations ensures care is being delivered in the right place at the right time. Caregivers can easily view task lists and verify the completion of tasks in addition to sharing this information with other care team members if needed. 
Generations Homecare System is committed to providing the best-in-class technology to care teams around the world. Take a closer look at the top-rated caregiver mobile app in the brief video below or download the overview booklet below for more information.