Generations Homecare Portal for Caregivers, Caregiving Clients, and Agencies
Generations Homecare System serves as a secure, user-friendly homecare portal to save your care team time and improve health outcomes through accurate and timely information.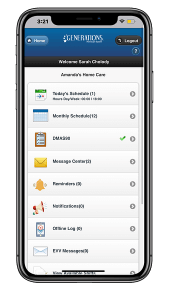 You can access your Generations subscription via web login from your browser or from our mobile app. This mobile app is available in three formats:

For homecare agencies

For caregivers

For clients and their families
Download the information packet here.
Portal for homecare agencies
This portal comes filled with homecare management software features that make it simple for agencies to streamline office efficiencies and ensure a high quality of care. 
Secure Messaging

– Agencies can alert caregivers via an app, email, and text notification when there are new messages and documents.

Care Plans –

Generations Care Plans allow you to create a completely customizable assessment and care plans during the initial visit, receive electronic signatures, and securely access care plans in the field via the mobile app. Your agency can choose from three care plan types: assessment forms, care plan reports, and CMS-485.

Care Notes

– Agencies can easily design Care Notes and set categories (e.g. Fall Risk Assessment or Activity Evaluation) that caregivers are instructed to fill out. Administrators can view missing care notes by visit to verify procedure is being followed and ensure the quality of care.

Quality Assurance –

Agencies can survey clients and view survey ratings by visit or as an accumulation of ratings over time to monitor for quality assurance and gain referrals by using the Quality Assurance Rating Report.

Electronic Visit Documentation –

Agencies can

ensure exceptional care and improved outcomes with access to a variety of HIPAA-compliant documentation tools that

help save time in the way of organizational efficiencies and expedited billing.

Streamlined Caregiver Scheduling – Administrators can fill visits in a timely manner by remotely broadcasting work opportunities, receiving visit requests, and accessing caregiver availability. You can even note caregiver and client exclusions and preferences.
Caregiver homecare portal
Ensure exceptional care and improved outcomes by providing your caregivers with access to various HIPAA-compliant documentation tools built with a remote workforce in mind. 
Secure Messaging

lets caregivers receive critical and time-sensitive information from their agency, such as emergency plans and alerts. Caregivers can also use this feature to securely message their employer and notify them of their availability.

Care Notes give caregivers a complete clinical picture of their clients for every visit by documenting care coordination and progress toward client goals.
Visit Notes, Wellness Questions, and a required task list help care teams keep track of client health and monitor their conditions to prevent hospital readmissions. These capabilities can be tailored to the unique needs of each client.
Care Plans allow caregivers in the field to conveniently and securely access care plans via their mobile app.
Care Opportunities makes it easy for caregivers to remotely find and request shifts. This is especially useful for caregivers who are often on the move and don't have time to visit the office.
Homecare portal for caregiver clients & families
Empower your recipients of care and provide greater transparency and peace of mind with the Generations Mobile App or web portal. With this homecare portal, clients and their families can:
Access caregiver profiles

View scheduled visits, their plan of care, and real-time reporting of completed tasks

Use electronic signatures to verify care and sign off on established care plans
Fill out surveys and leave brief comments to rate satisfaction with care
Learn more about our homecare portal
Interested in learning more about Generations Homecare System and our homecare portal? Download this information packet to learn how we help keep teams connected and ensure the delivery of exceptional care.