Grow your homecare business by build relationships and improving health outcomes.
Generations Homecare System powers the leading private duty and Medicaid homecare providers.
Solutions for Frontline Providers
Home health aides, nursing assistants, personal care attendants, nurses and managing agencies are on the frontline of protecting and improving quality of life for recipients of in-home care. Generations is built with the best tools for these essential workers. 
Earn Referrals
Arm your marketers with poweful reports that demonstrate the quality of care you provide. Agencies that speak the language of referral sources win the business.
Improve Health Outcomes
Equip your care team with the technology to deliver responsive, compassionate care. Real-time reports and alerts to changing client conditions result in improved health outcomes.
Accurately Bill
Streamline your billing process with accurate schedules and records. Built in exports and forms meet state specific requirements. Direct interface to QuickBooks and many 3rd party payers.
Deliver Family-Centered Care
Earn the trust of your clients and their families with valuable communication tools. Ensure the best care is always delivered. 

"Cuts down on a lot of time for staff and personal care assistants. Client name/address, care plan, visit notes, and ability to clock in & out via GPS is all built into one handy device. Love it!"
– Martha, Home Care Owner in Pennsylvania
Features in Generations include:
Electronic Visit Verification (EVV)
HIPAA Compliant Two-Way Messaging
Family Portal and Cargiver App
Unlimited Support & Training
Referral Source Management
Real-Time Wellness Alerts
Quality Assurance Check-Ins
Deliver Quality Care
Essential tools to streamline your homecare scheduling, maintain compliance, and deliver the best care.
Electronic Visit Verification
Fully integrated Electronic Visit Verification (EVV) Telephony to streamline your reimbursement process and maintain accurate billing and payroll data. Real-time visit verification and missed visit alerts ensure reliable quality care is always delivered.
Mobility
Generations is cloud-hosted and completely mobile. Your data is always secure and accessible only to those with proper permissions. Free mobile apps for the entire homecare team, including caregivers, case managers, administrators, and clients.
Unlimited Support and Training
Support is unlimited and available through LiveChat or phone. Absolutely no limits or hidden fees. Work with a one-on-one on-boarding specialist for easy setup. A dedicated Generations Success Manager will ensure your homecare team is using all of the essential tools in Generations.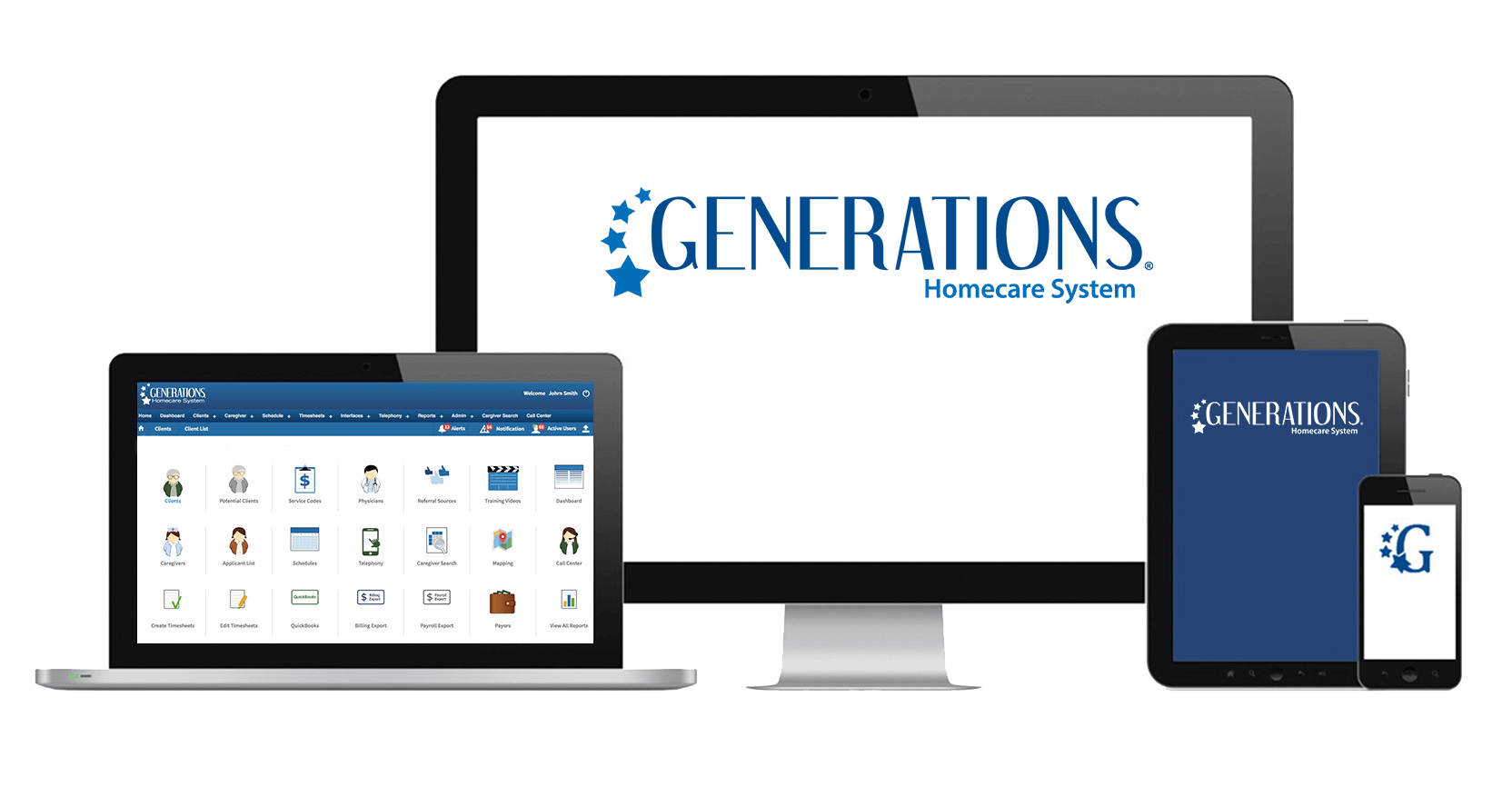 "Great company, great solution for running my business, great support and one of the best business decisions I made to help deliver my services to those we serve."
-Homecare Provider in Massachusetts

Generations Homecare System - A Solution from Integrated Database Systems
Midland | Royal Oak
Michigan
989-546-4512 | info@homecaresoftware.com