Generations
GPS Visit Verification – Multiple Address Support
If your client receives services in multiple locations, you can now enter multiple EVV addresses. Visit verification will consider all addresses entered when matching on location.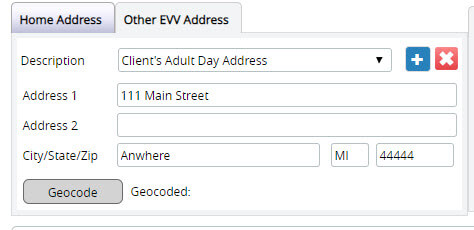 Telephony Visit Verification – Multiple Phone Support
Telephony visit verification will consider all numbers when matching the caller ID. Assign a description to each number for internal reference.

EVV Interface – Florida (Tellus)
Generations now supports interfacing with Tellus in Florida. Reach out to our support team if you require the interface.
EVV Interface – Florida (Virginia)
Integration with Tellus for the state of Virginia is expected soon. If you require this interface, please contact our support team so we can update you as things progress.
Other 
418439 DMAS90 ability to un-check task boxes on schedules.
419047 Add alert information to report writer / column and caregiver column chooser.
419606 Sandata: Add OH state specific Exception codes.
417212 Add status to Caregiver Vacation and Absences Report parameters.
420369 Cannot mass update Mileage Prompt.
420372 Telephony Multiple logout's, Unable to Un-match the schedule.
420470 Visit Alert for Canceled Shift still goes to Notification Bar.
Other misc fixes and improvements.
QuickBooks Interface
QuickBooks Desktop – 2.4 Beta
417393 Fix for updating payroll item when discrepancy found during timesheet transfer audit.
You can take this update from the Help | Check for Beta Updates menu in the interface.
If you are still on 1.x version of the QB Sync app you will need to uninstall and install the new version from here.
Mobile App
421131 Fix on touch/face ID for IOS.

Requires update to app version 3.2.1.

418769 Payroll Item required when editing a shift via app.
420749 Fix for Telephony Calls display on mobile App.